Fenix BT20:
In order to meet the versatile demands of different customers for outdoor lighting, Fenix has successfully developed the first bicycle light BT20 that will be launched soon. With the hope of enhancing the quality of Fenix products and services, we are collecting consumers and bike light enthusiasts to participate in Fenix BT20 Global Testing Campaign. Fenix will select some participants to test the BT20 (prototype sample) which will be sent you for free. We are looking forward to your participation and support.

1. Brief introduction of BT20

BT20 is a specially designed professional bicycle light for bicycle enthusiasts. It delivers a max 750-lumen output. Employing the pioneering dual distance beam system, the upward beam of BT20 is refracted by the lens, forming an auxiliary beam in the front area of the wheels where ordinary bicycle light can not reach. With its advanced aspherical light cup design and broad beam distance up to 156m, it can bring the users a broader view in the night riding. The active fashion style of BT20 conforms to the aerodynamics design with small wind resistance and fast heat dissipation; it is quick to attach and detach using O-ring mounting straps sized for 20mm-35mm handlebars; moreover, the direction of the headlamp can be adjusted freely, which brings you more convenience. Powered by two 18650 rechargeable Li-ion batteries or four CR123A Lithium batteries, BT20 features four brightness levels and one variable frequency flashing mode, which satisfy your various lighting needs such as commuting, urban utility, cross country, down hill, etc.

2. Declaration of the Testing Campaign

2.1 Fenix will send the BT20 (prototype sample) for free to the participants who are selected to test the BT20, after they received the bike light, they need to test it and publicize the reports on the relevant media according to Fenix's requirements.

2.2 The transporting freight for the BT20 will be paid by Fenix. 3. Requirements for the Testers

3.1 All kinds of fans, including cyclists, outdoor sports fans, or consumers who are well experienced with high end bike light, etc.

3.2 Individuals who can write reviews or reports for bike light, edit it with words and pictures, or take videos when they are testing the flashlight. 

3.3 Individuals that have already posted more than one review (Content is not limited to bicycle light)

3.4 Individuals who can post their testing reports on more than one internet media, such as the website of cycling, photography, outdoor, flashlight, etc.4. Tester Registration

4.1 Registration Deadline: From September 15th to October 7th, 2012.

4.2 Registration Web Link:

5. The Announcement of the qualified tester list

5.1 Announce Time: October, 9th, 2012

5.2 Announce Address: 'Company news' channel on Fenix official website

6. Requirements for writing and publishing the testing report

6.1 The contents of your reports should include:

A. Description and your personal feeling of the product.
B. Images and video of the products, including appearance, function, details and trial run environment.
C. Description of the testing environment and process.
D. Description of the merits and shortcomings of the product. 6.2 Requirements for publicizing the testing reports:

A. Publicizing time
Testers should publicize the report within 20 days after receiving the BT20, and send the website link to Fenix by email for our reference.
B. Website for publicizing
Individuals who can post their testing reports on more than one internet media, such as the website of cycling, photography, outdoor, flashlight, etc.
C. Feedback Form
Please fill out the Feedback Form after publicizing of the testing report in this link:

7. Notice

7.1 Fenix will contact those selected testers by sending emails. If we receive no reply from them within seven working days, we'll regard them as giving up testing the Fenix product.

7.2 It is preliminary decided that BT20 bike lights will be sent out in the Middle October, 2012.

7.3 Fenix reserves the rights of final interpretation of the campaign.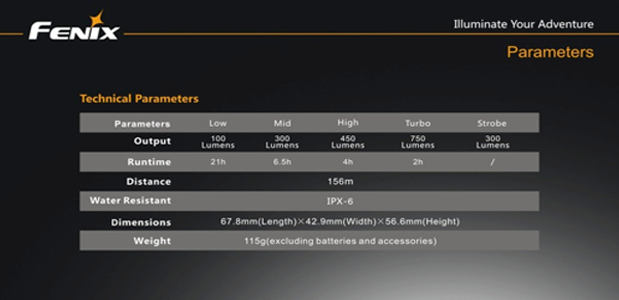 Battery Source:

Battery Type : 4 x CR123A / 18650

Package & Contents: