8 hrs biking in 8 mins time lapse video on the spot!
Camcorder For Biking?
Yes there are lots comcorders or action cams can help you record biking video
But the Problem is.......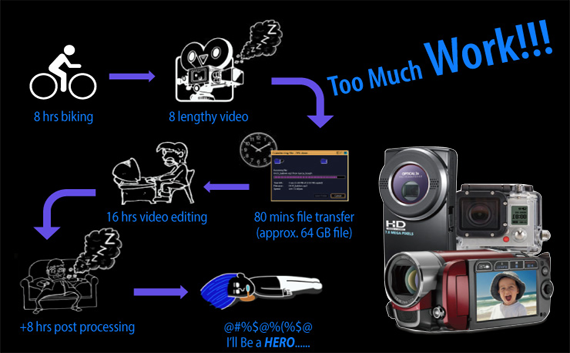 Brinno Bike Camera
No stitching, No converting!
Play back on the spot on your Smartphone
Once Your Video Shot, It is actually a time Lapse Video and not series of JPEGs
Rock Solid Bike Holder
Rock solid mount for a mountain bike or BMX bike or your Harley or Goldwing touring bike or your ATV… anything with handle bars and a frame.
Time Lapse Video Cam
Real Time Lapse video
Once your video is shot, it's already a Time Lapse video, not thousands of JPEGS needing hours of processing to make into hours of video.
Long Lasting Battery Life
Amazing bettery life!
4 AA batteries will work for 7 days
Playback
On the Spot
An 8 hr bike trip can be 8 mins of time lapse video, and played back on any On The Go ( OTG ) compatible smart phone with Brinno Reader* accessory
optional accessory, not included in package